Dear AIB colleagues and friends,
Are you concerned with a significant problem that affects business, society, or environment?
Do you have insights into its potential solutions and how IB knowledge and research offers answers?
Would you like to bring the problem, solutions, and evidence to wider international audience?
If your answer is yes, join our AIBís initiative, Mainstreaming Impact in International Business (MIIB)! The link contains its description.
An MIIB pilot is underway, with the support of several brilliant scholars in developing MIIB lectures this year. More will follow in 2022. Watch out for our updates.
If you would like to bring in your student audience, give an MIIB lecture yourself, or to learn more, please get in touch (email Dr Elizabeth Yi Wang at [log in to unmask]). All participants shall be recognized for their contribution, for making an impact!
Join us. Make IB impactful. Lead a positive change.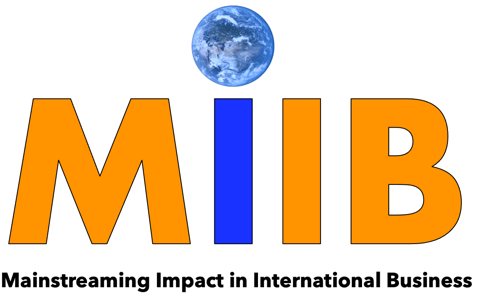 Kind regards,
Elizabeth
--------------
Dr Elizabeth Yi Wang
Associate Professor of International Business
Senior Fellow of the Higher Education Academy
Executive Coordinator of the Teaching and Education Shared Interest Group (T&E SIG) of the Academy of International Business (AIB)
Initiator and Leader of Mainstreaming Impact in International Business (MIIB)
Winner of Women of Achievement 2021
Winner of Deanís Award for Teaching Excellence 2018
International Business Division
Center for International Business at the University of Leeds (CIBUL)
Personal Webpage: https://bit.ly/3vUBWCG
Tel: +44 (0) 113 343 6856; Email: [log in to unmask]
Visiting Address: Centre for International Business (CIBUL), No.14 Cromer Terrace G.08
Postal Address: Leeds University Business School, Maurice Keyworth Building, The University of Leeds, Leeds, LS2 9JT, United Kingdom
Our Research: here