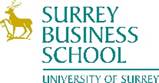 Senior Lecturer/Reader in International Business and Strategy
Department of Strategy and International Business
Surrey Business School
University of Surrey
Surrey Business School (SBS) is a mid-sized business school with over 100 academic staff members from around the globe, and a highly cohesive and collegial atmosphere. The school is accredited by AACSB (the Association to Advance Collegiate Schools of Business) and by AMBA (the Association of MBAs). The school's particular strengths are in digital innovation and technological transformation, international trade and investment, leadership and organizational psychology and sustainability. Based in Guildford just outside of London, the University of Surrey is an outstanding international University with an enterprising spirit.
SBS runs a full range of programmes including undergraduate, postgraduate and MBA programmes, as well as a PhD programme. The school works closely with companies and other stakeholders. SBS has strong links with many technology-oriented start-ups and established firms in London, and the South-East of England in general. For further information, please visit the SBS website.
The Department of Strategy and International Business (S&IB) has core research strengths in nonmarket strategy, corporate political activity, market entry strategies, foreign direct investment, sustainability, business model innovation as well as research into managing political risk. Please visit the S&IB website for more information and details on our research and teaching foci. To get a feel for the team and their experiences please visit the team page.
Our staff publish in leading journals in our fields e.g. Organization Science, Journal of International Business Studies, Journal of World Business, Journal of Management Studies, Strategic Organization, Academy of Management Perspectives, Global Strategy Journal, British Journal of Management and Research Policy. The Department's research increasingly considers the links between business and government relationships, and we are looking to expand this emphasis. Our team manages a wide range of international business related programmes, e.g. BSc in International Business Management, MSc International Business Management. S&IB is led by Professor Tazeeb Rajwani and includes a healthy mix of research active faculty and practitioner teaching fellows, the latter bringing a wealth of business experience.
As a growing department, we seek to appoint an academic at either a Senior Lecturer and Reader level in Strategy and International Business to join our dynamic team. The successful applicant will demonstrate clear evidence of their capability to publish world class research (4* and 3* journals), teach international business and related areas across the curricula of UG and PG programmes. They will be expected to play an active role in leading and developing the MSc in Management programme.
This is a full-time position. Conditions and compensation will be at internationally competitive standards and commensurate with the appointees' experience.
If you are interested in learning more about this position, please contact Professor Tazeeb Rajwani ([log in to unmask]).
Apply on-line at:
015221-R-R Senior Lecturer in International Business & Strategy - Jobs at the University of Surrey
015221-R2-R Reader in International Business & Strategy - Jobs at the University of Surrey
Candidate presentations and interviews are planned to take place on 19th July 2021.
Best regards
Taz
Prof. Tazeeb S. Rajwani, PhD FRSA FHEA FCMI
Professor of International Business and Strategy
Head of Department of Strategy and International Business
Surrey Business School, University of Surrey
Associate Editor, Journal of International Management
Associate Editor, Multinational Business Review

T: +44 (0) 1483 686 300
Read my recent paper in Organization Science (2021): "How Business Models Evolve in Weak Instititional Environments: The Case of Jumia,the Amazon.com from Africa"
CALL FOR PAPERS (CfP) in International Business Review (2021): "MNE Nonmarket Strategy: Complexities and Varieties"
Rik Medlik Building, University of Surrey, Guildford, Surrey, GU2 7XH, UK

We are ranked 8th in the UK for business and economics and 61st in the world in the Times Higher Education World University Rankings 2021.