Dear colleagues,
We are pleased to share a Call for Papers for a Special Issue on 
Special Issue on 'International Networks Between Europe, the United States, Australia and Emerging markets: Challenges in the "New Reality"
 in 
European Journal of International Management
ABS 2*, STARS;  IF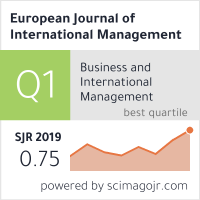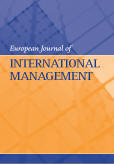 Please find more details below and attached . 
https://www.inderscience.com/info/ingeneral/cfp.php?id=5235  

Guest Editors:
Prof. Marina Dabic, University of Zagreb, Croatia and Nottingham Trent University, United Kingdom
Assoc. Prof. Vanessa Ratten, La Trobe University, Australia
Assist. Prof. Ivana Kovac, University of Zagreb, Croatia
The "new reality" is characterised by an increased reliance on digital communication due to the changes resulting from the COVID-19 (coronavirus) health pandemic. As a consequence, the new reality refers to a current substantial decrease in international travel and mobility with new social patterns such as social distancing and working from home becoming the norm. This has affected emerging markets particularly those with strong trade ties to Europe, the United States and Australia. Whilst the dependency of these trade networks might be based on mutual need, the current health pandemic has caused many difficulties. This is due to the uncertainty in the cause and duration of the coronavirus. As a consequence much hesitation has resulted amongst businesses involve in international markets due to the unknown effects of the health crisis. The aim of this special journal issue is to understand in more depth the new reality particularly for international markets based on networks with Europe, the United States, Australia, and Emerging markets. Additionally, the emphasis could be on other international markets and the way they are adapting to the "new normal".
Subject Coverage
Suitable topics include, but are not limited, to the following:


International strategy resulting from the coronavirus and its effect on international markets
Multinational influences on international markets based on the" new normal"
Changes in consumer behaviour based on the new normal in international markets
International marketing resulting from coronavirus effects
 international manufacturing networks 
 Fluctuations in International value chain networks
New demands from the International virtual teams in the contemporary business environment
Virtual team formations across various geographical localities
International trade and investment in emerging markets based on the new normal
New theories of how coronavirus has affected international markets
Effects on corporate social responsibility and sustainability resulting from the health pandemic
Policy initiatives aimed at increasing networks and collaboration between international markets
International political economic repercussions from the health pandemic

Notes for Prospective Authors

Submitted papers should not have been previously published nor be currently under consideration for publication elsewhere. (N.B. Conference papers may only be submitted if the paper has been completely re-written and if appropriate written permissions have been obtained from any copyright holders of the original paper).
All papers are refereed through a peer review process.
All papers must be submitted online. To submit a paper, please read our Submitting articles page.
Important Dates

Manuscripts due by: 30 November, 2020
Notification to authors: 30 January, 2021
Final versions due by: 30 March, 2021
We are looking forward to receiving your submissions.
Best regards,
Marina,Vanessa & Ivana
Marina Dabić
Professor, University of Zagreb; Faculty of Economics and Business; 
J.F. Kennedy Square 6, 
1000 Zagreb, Croatia
E-mail: [log in to unmask]r
&
Nottingham Trent University, Nottingham Business School,
Burton Street NG1 4BU Nottingham, UK
ORCID: 0000-0001-8374-9719