Good Afternoon,
This week FIU CIBER is kicking off our webinar series titled: "International Content Expansion Series."

The first webinar will take place this Thursday August 6th from 12pm-1pm on the topic of Collaborative Online International Learning.
We hope that this webinar will inspire you to think of creative ways to internationalize the courses you are currently teaching.
Register using Zoom ID 937 3967 9281
FIU CIBER will host a webinar each week in the month of August. Please stay tuned for details on the upcoming webinars and opportunities offered through CIBER.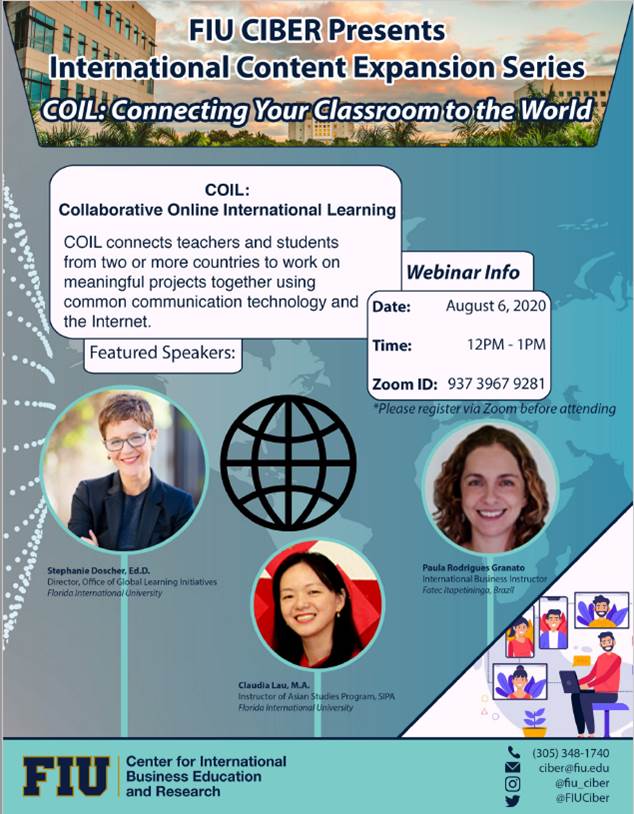 If you have any questions please feel free to contact us.
Best Regards,
Jillian Avendano, M.S.Ed
CIBER Program Director
Center for International Business Education and Research (CIBER)
Florida International University
College of Business
11200 S.W. 8th St., MANGO 410
Miami, FL 33199

Direct: 305.348.0623 | CIBER: 305.348.2064
Email: j[log in to unmask] | [log in to unmask]
| | | | | |
| --- | --- | --- | --- | --- |
| | | | | |
| Wear a face covering and do not touch your face | Wash your hands or use hand sanitizer | Practice physical distancing and stay 6ft apart | Stay home if you feel ill | Clean surfaces |