Michigan Organic Listserv
January 4, 2020
Center for Regional Food System
Michigan State University
Vicki Morrone-Organic Farming Specialist
Happy New Decade to you and your families!
It is that time of year, when farmers give hibernating bears a side glance and they pull on their boots to go and learn new approaches to improve their farming. Hope you can join the many great Michigan farmers across the state to glean, share, discuss and contemplate ways to improve your farming plan and even make the getting there easier.
Winter farm conferences in and around Michigan
Employment Opportunities
Participate in On-farm Research?
Winter farm conferences in and around Michigan
MOFFA Organic Intensives 2020 January 11 (yes next Saturday!)
The event will take place on Saturday, January 11th, at the Plant and Soil Sciences building on the MSU campus in East Lansing. You can choose from 1 of 3 sessions and spend the day in that topic, offering you the chance to dive into the topic and learn about and how to implement that aspect into your farm business. Here are descriptions of the 3 topics you can choose from: Successful Biological Orcharding with Michael Phillips, Organic No-Till Farming with Andrew Mefferd, and Local Organic Herbs for Health with Jim McDonald. Plan to join us! Register here
Option

1. Successful Biological Orcharding
Fascinating biological connections make for a healthy orchard ecosystem. All insect pests and fruit tree disease – whether fungal or bacterial – have launching points and particular timing. Healthy trees address these challenges first and foremost from within. Growers utilizing an ongoing investment in soil nutrition and biodiversity set the stage for gentler organic sprays to grow a successful fruit crop. The challenges you face at your locale will become far more manageable as you build a holistic system that keeps trees and berry plantings healthy from the get-go. We'll wrap up this day with important marketing perspective for selling the good fruit. Our guide for this session will be Michael Phillips of Lost Nation Orchard, author of The Holistic Orchard, The Apple Grower, and most recently Mycorrhizal Planet: How Fungi and Plants Work Together to Create Dynamic Soils. See the flyer for more information.
Option 2. Organic No-Till Farming
In recent years we have learned that tilling kills beneficial soil life, burns up organic matter, and releases carbon dioxide into the atmosphere. If the ground could instead be prepared for planting without tilling, time and energy could be saved, soil organic matter increased, carbon sequestered, and dependence on machinery reduced. Andrew Mefferd, author of The Organic No-Till Farming Revolution will discuss his experiences in talking with farmers during the development of the book, and will address practical as well as philosophical approaches that can help reduce greenhouse gas emissions, increase efficiency and profitability, and promote soil health. He will also discuss his experiences working on a no-till research farm, and how he applied the ideas on his own farm. See the flyer for more information.
Option 3. Local Organic Herbs for Health
An investment in your diet is an investment in your health and quality of life. Are herbs a part of your diet and/or your farm or garden food and medicine growing? They certainly can and should be. Jim McDonald, one of the country's premier herbal practitioners and educators, will offer a detailed look at several ways herbs that you can grow, harvest or purchase locally can be used in your daily diet for health. Jim has been teaching practical herbalism for decades. His website (herbcraft.org) has long been a source of information and a starting point of exploration for budding and blooming herbalists. Focus topics will include bitter herbs as an important dietary health component, gut healing teas, profiles of a range of easy to grow and harvest plants, and detailed demonstrations of using, extracting (water, alcohol, oil) and preserving methods. See the flyer for more information.
Thanks to our sponsors, we have been able to keep the cost low at $85 for MOFFA members and $115 for non-members. The registration fee covers six hours of learning, lunch, breaks, all printed materials, and a great chance to network with fellow farmers and gardeners from across Michigan. Parking is free at the Plant and Soil Sciences Building. A limited number of scholarships are available; to apply please email [log in to unmask]. Space is limited, so ...
A block of rooms has been reserved at the TownePlace Suites Marriott, 2855 Hannah Blvd., East Lansing, MI 48823, just one mile from the Plant and Soil Sciences building. Room availability was only guaranteed through December 11th, but the conference rate of $109 per night continues to be in effect; mention MOFFA when you call. We suggest you contact the hotel as soon as possible at 517-203-1000 to be sure you get a room if you will need one.
****************************************************************************************************************************************
The Northern Michigan Small Farm Conference Jan 24-25
The warmest place to be in January in Michigan
The Northern Michigan Small Farm Conference brings together farmers and gardeners from across Michigan to learn and connect. Held January 24 & 25, 2020 at the Grand Traverse Resort in Acme, Michigan.
register here
Break down in registration costs are as follows: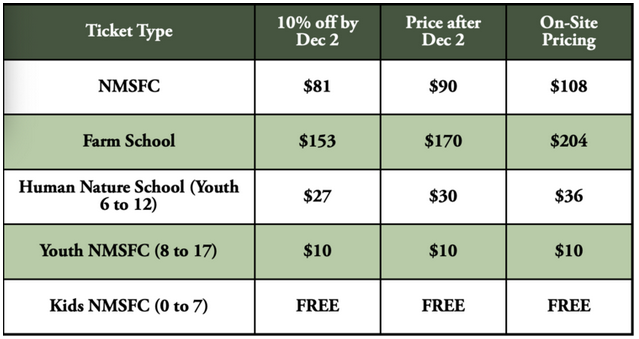 Michigan Food and Farm Systems Family Farm Conference-Jan 8
Welcome to the 17th Annual Michigan Family Farms Conference "Nurturing Resilient Farms - 2020 & Beyond.". This conference offers beginning, small-scale and culturally diverse farmers a chance to network, learn, and build sustainable family farms. We hope you will join us!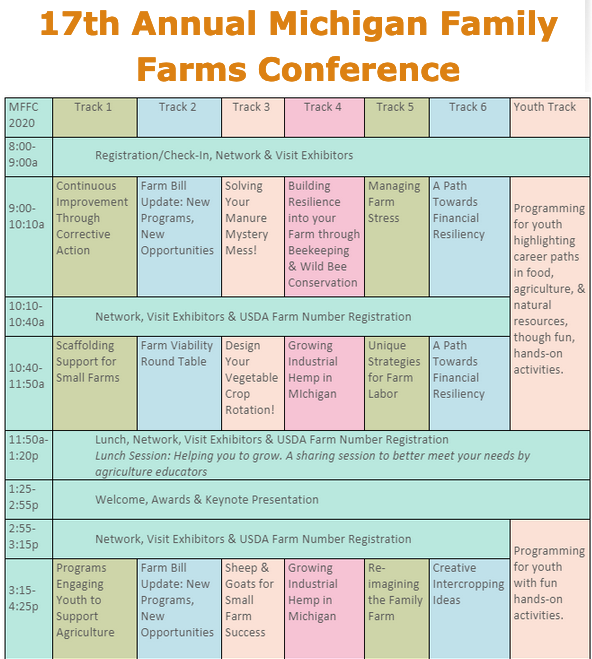 Join us on February 8, 2020 for this dynamic conference!!!
Midwest Cover Crop Conference 2020- Feb 11-12
11728 N. Ambassador Drive
Kansas City, Missouri 64153
Phone: 800-957-4654
When making room reservations, please mention the University of Missouri Extension Midwest Cover Crop room block to receive the group rate of $107 (single King) or $115 (double queens), plus city and state taxes. The hotel room block will be released January 19, 2019. After this date, the conference rate will be subject to availability. Please make your lodging reservations early. Group rate does not include breakfast. Parking is complimentary. 24 hour complementary airport shuttle is available, reservation is required.
Conference and Sponsorship Registration
Click here for full 2 day program Agenda February 11th – MCCC Annual Business Meeting; MCCC State, Province, and Partner Reports, Working Sessions (open to the public)
February 12th – MCCC Annual Conference and here is the agenda: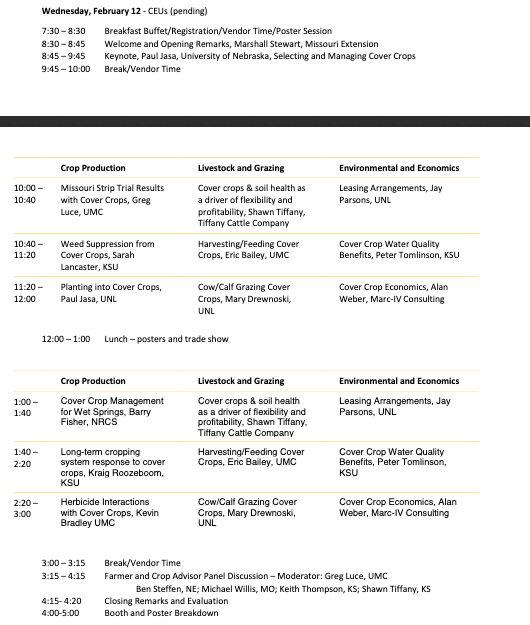 Organized by Midwest Cover Crops Council, University of Missouri Extension, University of Nebraska Extension, Kansas State University Extension, and the USDA Natural Resources Conservation Service.
Cultivating Your Legally Resilient Farm Workshop -March 6
Hosted by Michigan Food and Farming Systems.
This all-day workshop is led by farm law expert and farmer co-presenters, guaranteeing you'll pick up the practical wisdom and the knowledge you need to navigate legal issues with confidence. We are excited to be holding this event at our MPHI location and will have registration open soon. We will have registration available at our booth at the MFFC in February.
Trying to figure out the loan options for your farm operations?
A new online tool can help farmers and ranchers find information on USDA farm loans that best fit the needs of their operation. The tool is especially helpful to farmers who are new to farm loans and need help finding the right type of loan for their business needs. If you're looking for financing options to operate a farm, buy land, or both, you can answer a few simple questions about what you're looking to fund and how much money you need to borrow. You will receive information within minutes on which types of loans may best fit your needs. This new tool is especially helpful for beginning farmers and ranchers as well as those who are new to FSA farm loans.
Employment Opportunities
Growing Hope is hiring for a Youth Programs Assistant and Garden Education Coordinator. We are a community-based organization to help people in Ypsilanti to grow food.
Both positions are part-time and paid hourly. Please see below for position summaries and instructions on how to apply.
Growing Hope is a 501(c)3 nonprofit organization focused on strengthening and supporting the local food system throughout the community and beyond. We own and operate a demonstration urban farm, fund and staff the Ypsilanti Farmers Markets, and facilitate programming around home and community gardening, preparing fresh, affordable local produce, and food entrepreneurship to youth and adults.
Positions can also be found at growinghope.net/get-involved/jobs-internships
Youth Programs Assistant
The Youth Programs Assistant will work directly with youth Pre-K to 12th grade to implement lessons and activities. This person will support many of Growing Hope's youth programs, including our summer and after-school "Seed2Plate" gardening and cooking lessons, youth field trips to our Urban Farm and Farmers Markets, and our Teen Leadership and Summer Program. Occasionally, this position will attend community events and meetings. All of our youth programs are framed as garden-based education that addresses racial justice in the food system. Additionally, we are beginning to offer STEAM-based lessons that build on classroom curricula standards.
To Apply:
Please submit application to [log in to unmask]. Include resume or description of relevant experience. Include a cover letter detailing your interest and why you are qualified for this position. Include at least two references (professional or personal). Applications accepted until Friday January 31st at 5:00 pm. No formal education is required for this position.
Garden Educator Coordinator
The Garden Education Coordinator will work directly with adults and youth to implement vegetable gardening in home and community settings. This person will 1) support Ypsilanti-area residents to start and maintain their own home vegetable gardens, 2) support garden development and maintenance on our Urban Farm, and 3) facilitate volunteer-days on our Urban Farm.
To Apply: Submit resume or description of relevant experience. Please include a cover letter detailing your interest and why you are qualified for this position. Include at least two references (professional or personal) to [log in to unmask]. Applications accepted until Friday, February 7th at 5:00 pm. No formal education is required for this position.
Growing Hope encourages people of color and individuals who possess an in-depth understanding of poverty or economic hardship to apply. We welcome a diverse pool of applicants and make employment decisions on the basis of merit. We do not discriminate potential employees based on race, creed, age, physical ability, national origin, sex, gender identity, sexual orientation or marital status. Accommodations will be made so that the application process and position is made accessible for qualified applicants.
Erica Bloom
Assistant Director
734.786.8401 Office
922 W. Michigan Ave.
Ypsilanti, MI 48197
On-Farm Research Opportunity
Are you Interested in Participating in Organic On-Farm Research?
If you are the curious type who likes to see for her/himself and want to work with researchers, then you may consider…
University of Michigan and Michigan State University agro-ecologists are working together to test cover crop 3-way mixes on organic and transitioning farms in Michigan. Are you an organic or transitioning farmer and interested in testing the cover crop mix on a strip of your land to see how well it does under your soil and management? Note that we start this coming season (2020) following your small grain crop harvest. This is a 3 year grant and we seek 15 Michigan Organic farmers to work with us, including choosing the cover crops. Please contact Vick Morrone, [log in to unmask] or 517-282-3557 by January 28, 2020 for more info or to join our team. This work is funded by USDA NIFA award.

Vicki Morrone
Organic Farming Specialist
Center for Regional Food Systems at Michigan State University
480 Wilson Rd
East Lansing, MI 48824
517-282-3557 (cell)
sorrone11 (skype)