Hi all, just a reminder of a free webinar tomorrow on navigating FSA loans for small/diversified/urban growers. Thanks! Londa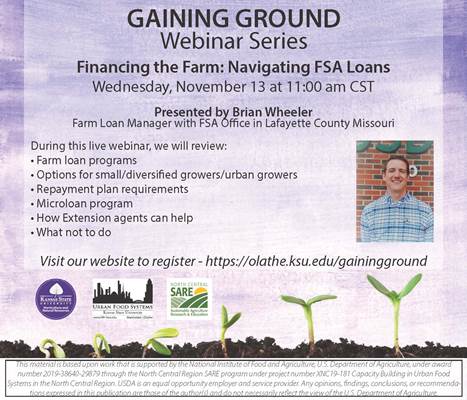 Financing the Farm – Navigating FSA Loans – Wednesday, November 13 at 11:00 am CST
Gaining Ground's first webinar is Financing the Farm: Navigating FSA Loans presented by Brian W. Wheeler, a Farm Loan Manager from Lafayette County FSA in Higginsville, Missouri. Wheeler has a bachelor's degree in Agriculture Business Management form the University of Missouri – Columbia and has over a decade of experience in farm lending. The webinar will include an overview of different FSA loan programs with a focus on the best options for small and diversified urban growers. He will also discuss repayment requirements, microloan programs, and how Extension agents can help their clients. Gaining Ground is a free webinar series geared toward agriculture educators. The goal of Gaining Ground is to equip agriculture educators with knowledge from national experts that support Urban Food Systems enterprises in the region. Participants will learn technical and systems-level information for successful Urban Food Systems practices.
To register or learn more - https://olathe.k-state.edu/gainingground/
Heather
Heather Woods
Program Coordinator
Horticulture - Urban Food Systems
Department of Horticulture and Natural Resources
K-State Olathe
22201 W. Innovation Dr.
Olathe, KS 66061
Phone:(913) 307-7365
E-mail: [log in to unmask]
To unsubscribe from this group and stop receiving emails from it, send an email to