SAEA Outreach Coordinator - Contractor Position
The Sustainable Agriculture Education Association (SAEA) is seeking an Outreach Coordinator to help us achieve our communications and outreach goals as a national organization dedicated to teaching and learning about sustainable and just food systems for all. These goals broadly pertain to membership communications, website updates, conference outreach, and promoting the principles of Equity affirmed by our members. The Outreach Coordinator is a contracted position for one year, with the possibility of renewal. Additionally, the Coordinator will support the SAEA Steering Council by participating in monthly conference calls, and will report to the SAEA Chair/Vice Chair.
A full description of responsibilities, compensation, and preferred qualifications can be found online here:
http://www.sustainableaged.org/get-involved-saea/open-positions/
If interested, please submit the following materials by
May 13, 2019
:
A short sample of writing or project that reflects your skills and interests. Examples include a website, editorial, series of social media posts, or other media that you feel demonstrates your capacity as an innovative communicator.

Start date is June 15, 2019

, with flexibility.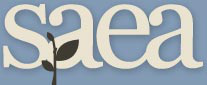 --