Please join me in a fun and intensive learning opportunity offered by Michigan organic food and farm alliance. It will be held on the campus of Michigan State University and the registration price is all inclusive; notebook on topic you choose, lunch, breaks and the chance to learn and share with others!
Hope to see you there and note for educators there is a Michigan SARE scholarship available!
Aggregately yours,
Vicki Morrone
Organic Farming Specialist at MSU-Center for Regional Food Systems
<![if !vml]>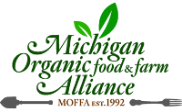 [log in to unmask]" v:shapes="_x0000_s1030"><![endif]>
Organic Intensives is less than two weeks away ...
Plan to join us on January 12th in East Lansing!

We have four excellent programs planned this year:
| | |
| --- | --- |
| <![if !vml]>[log in to unmask]" v:shapes="_x0000_s1029"><![endif]>Healthy Organic Livestock with Matt Shane, Karry Trickey, Mike Metzger and Aimee Swenson-Buckley. Monitoring and organic treatment of health issues, optimum pasture management, goat meat and dairy production, and decision-making for small scale sheep operations. | <![if !vml]>[log in to unmask]" title="" v:shapes="_x0000_s1028"><![endif]>Organic Mushroom Cultivation with Chris Wright and Michael Levine. Add oyster, shiitake, morel and other lucrative, high demand fungi to diversify your farm or backyard production. An overview of the biology followed by practical cultivation tips and hands-on demonstrations. |
| <![if !vml]>[log in to unmask]" title="" v:shapes="_x0000_s1027"><![endif]>Technology in Organic Row Crops with Brent Shettler, Mike Houghtaling, and Ben Sattelberg will cover precision planting, camera guidance cultivation, advanced weed management, and other aids to organic cultivation made possible by recent advances in technology. | <![if !vml]>[log in to unmask]" title="" v:shapes="_x0000_s1026"><![endif]>Advanced Organic Soil Mangement with Dan Kittredge. Soil health is measured through fertility testing, mineral testing, biological assays and productivity. The session will address how to interpret these results and put them to use to improve soil and plant health. |

There is detailed information about each of the session topics, schedules, and presenters on the website at www.moffa.net/oi-2019.html.

The event will take place at the Plant and Soil Sciences Building at 1066 Bogue St. on the MSU campus in East Lansing, with lunch next door in the Conservatory. Parking is free, and the registration fee of $80 for MOFFA members and $95 for non-members covers six hours of learning, lunch, two breaks, all printed materials, and a great chance to network with fellow farmers and gardeners from across Michigan. Please register early as enrollment is limited, and the earlybird registration discount ends December 15.

A limited number of scholarships are available so contact us at [log in to unmask] if the cost of registration is a barrier to participation. We also have some scholarship support from the Sustainable Agriculture Research and Education (SARE) program which is available to anyone who is involved with teaching others about growing sustainably.

Please share this information widely. We look forward to seeing you on January 12th.

To remove yourself from this list, email to: [log in to unmask] and include the following in the text of the message: UNSUBSCRIBE FARMMKTMI.


---------------
To unsubscribe from this list, send an email with "SIGNOFF FOODSPEAK" in the email body to [log in to unmask]

Foodspeak is a listserv that connects growers, consumers, and everyone in between to create a community of sharing information relevant to food systems and the Michigan Good Food Charter. Content posted to Foodspeak does not necessarily reflect the views of Michigan State University, the Michigan State University Center for Regional Food Systems, or the Michigan Good Food Charter initiative.

If you would like to access a searchable archive of the all the previous Mich-Organic listserv postings copy this URL and paste in your browser address field http://list.msu.edu/archives/mich-organic.html