Still time to comment on the FSMA (Food Safety Modernization Act)
-till Dec 16- Everyone has a role in ensuring safe food from field to fork. The Food Safety Modernization Act (FSMA) is the first major overhaul of our nation's food safety practices since 1938, and it includes new regulations for produce farms and for facilities that process food for people to eat. It represents some big changes to our food system – and it is extremely important for the Food and Drug Administration to get these regulations right.
The best way to fix FSMA and ensure safe food AND sustainable farms for our future is to COMMENT ON THE RULES. This is how FDA is officially collecting input from farmers, processors, experts, and everyone who eats – anyone can and should comment!
The second public comment period on FSMA is open until December 15, 2014!
Click here to access comment guidance!
Cover Crop Report Documents Yield Boost, Soil Benefits and Ag Retailer Roles
www.sare.org; for information on CTIC, visit www.ctic.org.
Still hedging about growing cover crops-you should reconsider? Its Mother Nature's crop insurance. Improve crop production; improve soil resilience (especially important with increase in erratic weather periods such as droughts and unseasonal rains). To gain new insights and understanding take a look at this research supported by USDA SARE.
For the second year in a row, a national survey of farmers has documented a yield boost from the use of cover crops in corn and soybeans, as well as a wide variety of other benefits. The survey - which was funded by the North Central Region Sustainable Agriculture Research and Education (SARE) program and carried out by the Conservation Technology Information Center (CTIC) - also details the challenges and benefits farmers expect from cover crops, data on the costs of seed and establishment, and insight into how farmers learn to manage cover crops.
In all, 1,924 respondents - both users and non-users of cover crops - completed the survey in the winter of 2013-2014. Of the total, 639 provided data comparing corn yields on similar fields with and without cover crops. They noted an average yield increase of five bushels per acre, or 3.1 percent, on fields that had been planted to cover crops before corn. Comparing yields in soybeans, 583 farmers reported an average boost of two bushels per acre, or 4.3 percent, following cover crops.
Environmental Impacts
Those increases, while significant, are lower than the boost discovered in a similar survey last year by SARE and CTIC, which saw improvements of 11.1 bushels (9 percent) in corn following cover crops and 4.9 bushels (10 percent) of soybeans after cover crops. Rob Myers, Regional Director of Extension Programs for NCR-SARE and an agronomist at the University of Missouri, points out that much of the difference in yield impact between the two years of surveys may be attributed to the drought in 2012, which highlights the moisture-management benefits of cover crops.
The new report also reveals other benefits farmers gain from planting cover crops, including increases in soil organic matter, reduced soil erosion and compaction, improved weed control, the availability of "free" nitrogen through soil fixation by legumes, and others.
Dramatic Growth in Acreage
"These many benefits of cover crops are reflected in the rapidly rising rate of adoption from 2010 to 2013, when cover crop acreage among survey respondents increased by 30 percent per year," says Myers.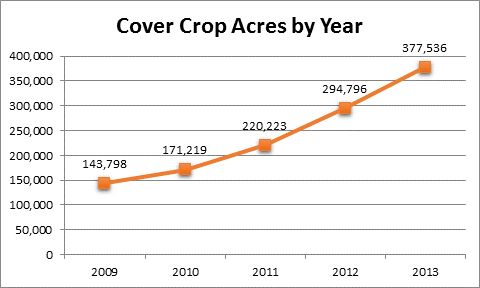 Note: Acreage data represents surveyed cover crop users.
Of course, both users and non-users of cover crops recognize that the practice can add challenges to the average crop rotation. Users and non-users alike ranked the time and labor required to plant and manage cover crops as their biggest concern. Establishing the cover crops, seed cost and selecting the right cover crops for their operations also ranked high for both groups of farmers.
"The survey reveals a widespread perception among farmers that cover crop seed and seeding costs are high," says Chad Watts, project director for CTIC. "It also shows that the median cost for cover crop seed was $25 per acre. This points to a clear need for detailed research into the economic benefits of cover crops, and the return on investment that they can provide. Such research is currently ongoing - in fact, CTIC is engaged in a USDA-funded study on the economics of cover crops in seven Midwest states right now."
Incentive Surprise
"One of the most surprising findings of the survey was that 63 percent of the cover crop users said they had never received cost-share assistance or payments to grow cover crops," Myers points out. "In fact, only eight percent said they only plant cover crops when they receive financial assistance. Our conclusion is that incentive payments can be very important to some farmers - either to get them started with cover crops or on an ongoing basis - but that the benefits of cover crops become apparent pretty quickly and inspire farmers to continue with the practice."
Landowners also were reported to view cover crops favorably. More than half the cover crop users - 61 percent - said their landowners were very supportive or somewhat supportive of cover crops on rented or tenant-shared acreage.
Ag Retailer Role
The new survey report delves into another new direction, exploring the role of agricultural retailers in supporting cover crops. Farmers said ag retailers can assist most by helping them assess changes in the soil resulting from cover crop use, guiding changes in nutrient management plans to account for cover crops, and providing advice and service for termination. Help with seed selection and custom seeding also ranked high on the lists for both users and non-users of cover crops.
"Ag retailers are widely respected for their agronomic knowledge, and it's clear from this year's survey that farmers are willing to look to them for insight and services related to cover crops," says Myers. "That creates great opportunities for ag retailers to expand their offerings and expertise, and for farmers to tap into local expertise that can help them manage cover crops to their best advantage."
Other Insights Abound
The SARE-CTIC survey features a wide range of other insights about farmers' experience with and perceptions about cover crops. Additional highlights include:
• Seventy-one percent of the cover crop users seed their own cover crops.
• Nearly half (48 percent) of the cover crop users apply a herbicide for termination; tillage and choosing species that winter-kill are each employed by about half as many growers (21 percent and 20 percent, respectively).
• Winter cereals are by far the most popular cover crops, planted by 73 percent of respondents. Legumes and brassicas are each planted by 55 percent of respondents. About one-third (34 percent) of the cover crop users plant a multiple-species mix.
• Cover crop users say they learn most about cover crop management through trial and error. Local workshops are the second-most popular source of insight, followed by online research and regional meetings.
"The farmers who shared their time and perspective on this survey have done a lot to teach us about on-the-ground perceptions and realities of cover crops, and about the types and sources of information that we can provide to support the adoption of these remarkable tools," says Watts.
The 2013-2014 SARE-CTIC Cover Crop Survey Report is available online at www.sare.org/covercropsurvey. For more information on SARE, visit www.sare.org; for information on CTIC, visit www.ctic.org.
Educational Opportunities
Apply now for the 2015 Organic Farmer Training Program at the Michigan State University Student Organic Farm!
The Organic Farmer Training Program offers nine months of intensive instruction in year-round organic farming. The program focuses on diversified production of vegetables, livestock, flowers, fruits and herbs for local markets. Participants manage all aspects of a 15-acre certified organic farm, including passive solar greenhouses used for year-round production in cold climates. Participants also manage the Student Organic Farm's field and hoophouse production. Produce is grown for the farm's primary markets, including a 48-week CSA, seven-month on-campus farm stand, and sales to campus dining services.
Participants develop competencies in farm skills and business planning through trainings, individual advising meetings, and engagement in the daily operations of the farm. Hands-on training is combined with workshops, lectures, readings and assignments that build participants' knowledge and understanding of organic farming principles and practices. The program is designed to give participants a strong background in production skills as well as the knowledge, management, and decision-making skills necessary to operate a diversified small farming business.
Additionally, we have multiple merit and need based scholarships available:
MSU- RHS Scholarships
A limited number of scholarships will be awarded based on assessed financial need and merit. Need and merit based scholarships will range from $1,000 to $5,000 and will be applied immediately and directly towards the cost of the program.
Michigan Good Food Charter Scholarship for People of Color
One to two scholarships totaling $10,000 will be granted each year. The Michigan Good Food Charter Scholarships will be disbursed directly to the participant.
Visit our website for full program description, application and scholarship information :
http://msuorganicfarm.org/organic-farmer-training-program
Contact us at:
517-230-7987
New Farmer Training in Chatham MI at MSU Upper Peninsula Research and Extension Center
The North Farm at the Michigan State University Upper Peninsula Research and Extension Center in Chatham, MI is now accepting applications for three new "Apprentice" farmers. This incubator program is designed to support new farmers launch a successful farm business by providing resources and support including access to land, infrastructure, market development and on-farm technical advising.
The North Farm at the Upper Peninsula Research and Extension Center is an incubator farm that specializes in diversified organic vegetable production and season extension in northern climates. The North Farm is located in Chatham, MI in the central UP, and close to markets in Marquette, Munising and beyond. There is a growing demand for fresh produce in the Upper Peninsula, and the North Farm will assist Apprentice Farmers in developing their markets. This program is open to individual farmers, as well as farming couples/partnerships.
The North Farm Apprentice Farmer Program is designed to reduce the barriers of access (such as land acquisition, business management experience, and growing skills) for beginning farmers who are interested in starting their own farm business. Three apprentice farmers will be selected to begin the two-year program in the spring of 2015. While technical assistance is available, the apprenticeship is not a training program. This opportunity is ideal for a farmer who has a significant amount of farming experience and is ready to take the next steps towards launching their own farm business in a northern climate.
Apprentice Farmers Will Receive:
• Access to organically managed land – 1/4 acre plot for the first year, 1/2 acre for the second year.
• Access to shared infrastructure – storage space, walk-in cooler, root cellar, hoophouse space, washing/packing shed
• Access to equipment and tools
• Mentorship from the North Farm staff and other stakeholders
• Opportunities to network with other area growers and food enthusiasts
• Opportunities to participate in competency-based workshops and trainings
• Optional housing at the North Farm
• Assistance in developing a transition plan off the North Farm after the two-year program
Cost of Participation
• $700 per growing season for land and resources.
• Optional on-farm housing provided at $175 per month.
• Optional custom tractor work as needed is also available for a small fee.
For more information, please visit http://www.msunorthfarm.org/apprentice-farmer-program.html.
(Food) Hub Camp
The Nuts & Bolts of Local Food Distribution

Grand Rapids, MI • Thursday, January 30 – Saturday, February 1, 2014

Practical training for the entrepreneurs and organizations building the New Food Economy.

Walk away from Hub Camp with a 6-month action plan to hit the ground running!

An action-oriented approach to learning, launching and adapting as you grow your local food system.

• Business Model Mapping.

• Service Design.

• Work through your unique challenges with farmer development, buyer education, finance, food safety, logistics, operations and storytelling.

• Three hands-on days with experienced operators who have launched and managed supply chain businesses.

• To maximize impact attendance is limited to 15 participants.

The Experience & Advice to Get You Going

• Noah Fulmer, founder and operator of Farm Fresh Rhode Island, a wholesale food hub that aggregates and delivers $2 million in produce from 60 local farmers to 120 buyers each year.

• Erika Block, CEO of Local Orbit. Local Orbit supports diverse local distribution models across the country. Erika brings unique perspective on best practices and challenges within this emerging sector.

• Evan Smith, Chief of Operations of Cherry Capital Foods, which distributes food from Michigan farmers to dozens of schools, grocers and restaurants. Evan also brings a wealth of experience with designing operations to maximize food safety.

• Plus: Topic experts on finance & legal issues.

Questions?

Please contact Noah at [log in to unmask].

Noah Fulmer

Local Orbit - re-linking the food chain 734.545.8100 x702
2014 Michigan Family Farm Conference- Early Registration till Oct 8!
Early-bird registration has been extended for the 12th annual Michigan Family Farms Conference on Saturday, January 17, 2015 at Marshall High School. Save your seat before December 8 to get the $5 early-bird discount! This annual gathering is a forum for beginning, small-scale and culturally diverse farmers to network, learn and build sustainable family farms. Register now or check out the attached flyer for more information.
This year's conference theme, "Sustain our Future - Healthy Soils, Healthy Communities", offers a diverse session line-up to serve farmers from all facets of Michigan agriculture. As we're looking toward sustaining our future of thriving local food systems, two themes arise over and over again - healthy soils and healthy communities. This year's eight conference tracks - including a youth track - take those themes on with great educational sessions and speakers, sharing real-world experiences.
Two keynote addresses this year – by Jack Lee and Jim Marshall of the USDA Natural Resources Conservation Service (NRCS) in the morning and LaDonna Sanders Redmond of the Campaign For Food Justice NOW! in the afternoon – break this year's theme down as these dynamic speakers share their passion and expertise in healthy, vibrant food systems, from the soil to our communities.
Adult registration costs $40 with the early-bird discount, and MIFFS members get an additional $5 discount. Not a member? Join now at www.miffs.org/join! Student and group rates are also available, and limited scholarship funds are available for reduced-price tickets. Sponsorship and exhibitor opportunities are also available. Please contact Michigan Food & Farming Systems (MIFFS) at 517-432-0712 for more information.
Planning partners for this year's event include Michigan Food & Farming Systems (MIFFS), the Farm Research Cooperative, USDA NRCS, USDA Farm Service Agency (FSA), Michigan State University Extension and College of Agriculture and Natural Resources, the Michigan Department of Agriculture and Rural Development, and the Calhoun County Conservation District.
Learn more about the conference, see a full list of sessions or register now at www.miffs.org/events/mffc, or contact the MIFFS office at 517-432-0712 or [log in to unmask].
Michigan Food & Farming Systems - MIFFS Supporting the Many Faces of Farming
Ph: 517.432.0712 Fx: 517.353.7961 www.miffs.org
16th Annual Northern Michigan Small Farm Conference
January 23 & 24, 2015 click here to register
Enjoy a full day of workshops at the Northern Michigan Small Farm Conference. Increase your farm profit and productivity by learning more about soil science, livestock, business planning, cover crops, bee keeping, fiber and more.
New this year:
• Farm School: A pre-conference with intensives in soil fertility and agroforestry, with Michael Phillips, Peter Bane, Garry Zimmer, Morgan Composting and Bernie Ware
• Friday Evening Keynote: With Winona LaDuke, an internationally renowned activist working on issues of sustainable development renewable energy and food systems.
• Saturday Youth Programming: Human Nature School will be offering youth programming during the conference for 8 to 12 year olds. The program will be hands-on, and experientially based. The day will be spent outside playing games, exploring natural mysteries, building shelters, hearing stories, and following one's own passions. Come join the adventure—and dress your children for the weather.
•